Sports
The Most Memorable Moments in New York Sports History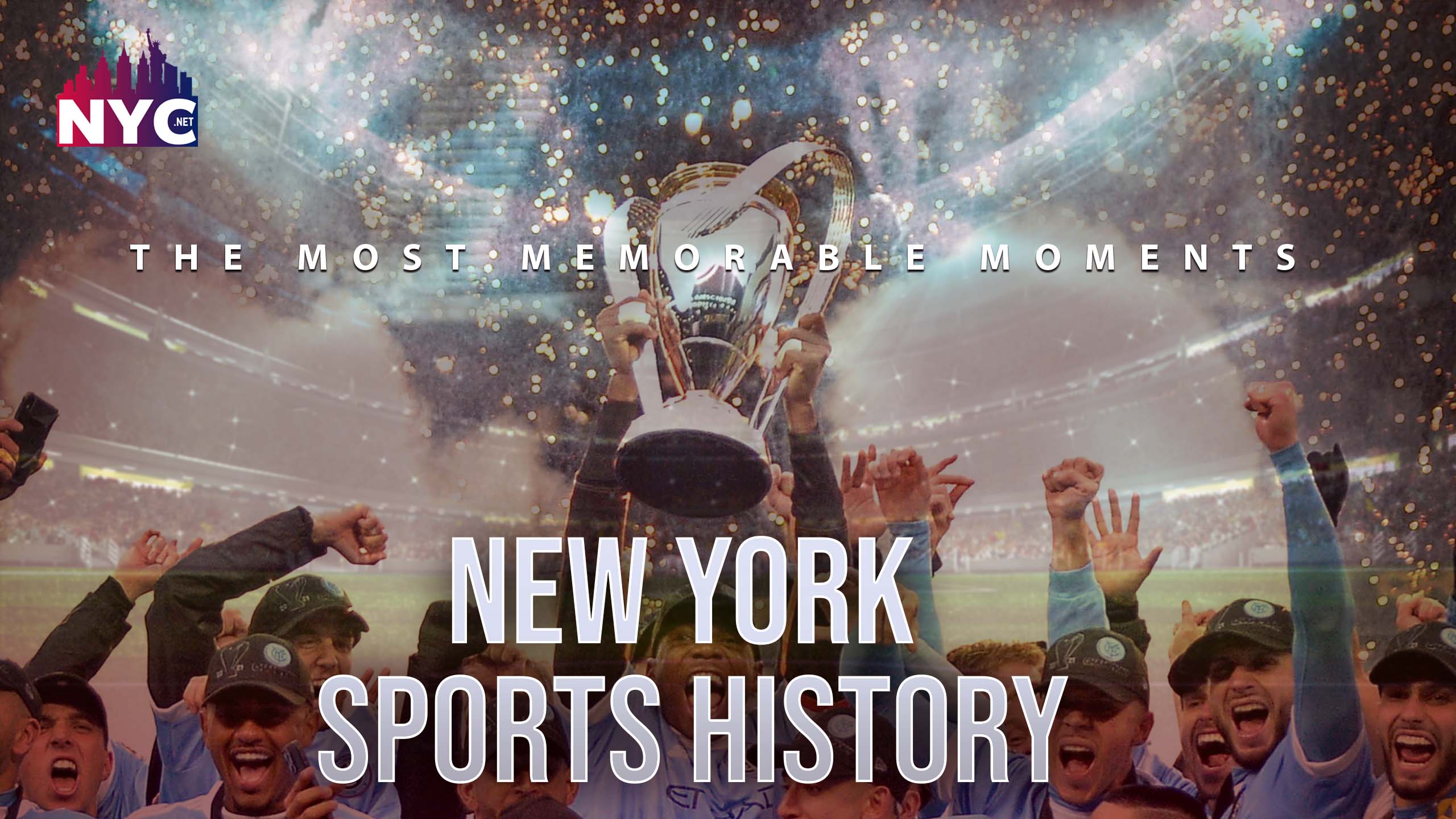 New York Sports History
New York's sports history is full of unforgettable moments that still resonate with fans today. From the Miracle on Ice to Joe Namath's guarantee, the city has been home to some of the most iconic and memorable events in sports history. So, prepare for an exciting ride as we delve into the most thrilling and unforgettable New York Sports History moments!
In this blog post, we'll take a trip down memory lane and relive some incredible moments that have shaped New York's sporting landscape. 
The Miracle on Ice
The Miracle on Ice is undoubtedly one of the most iconic moments in New York sports history and the entire history of sports. In 1980, the United States hockey team stunned the world by:
Defeating the heavily favored Soviet Union team in what became known as "The Miracle on Ice."
It was a moment that captivated die-hard hockey fans and casual viewers. Everyone was caught up in the patriotic fervor of seeing an underdog American team take down a seemingly unbeatable opponent. The game featured incredible performances from goaltender Jim Craig and captain Mike Eruzione, whose goal sealed victory for Team USA.
The impact of this win went beyond just sports; it was a symbol of hope and inspiration during a time when America needed it most. It showed that anything is possible with hard work, determination, and teamwork.  You can even beat one of the greatest teams ever assembled.
People still discuss where they were when they witnessed "The Miracle on Ice." This moment will forever remain in New York Sports History and American folklore.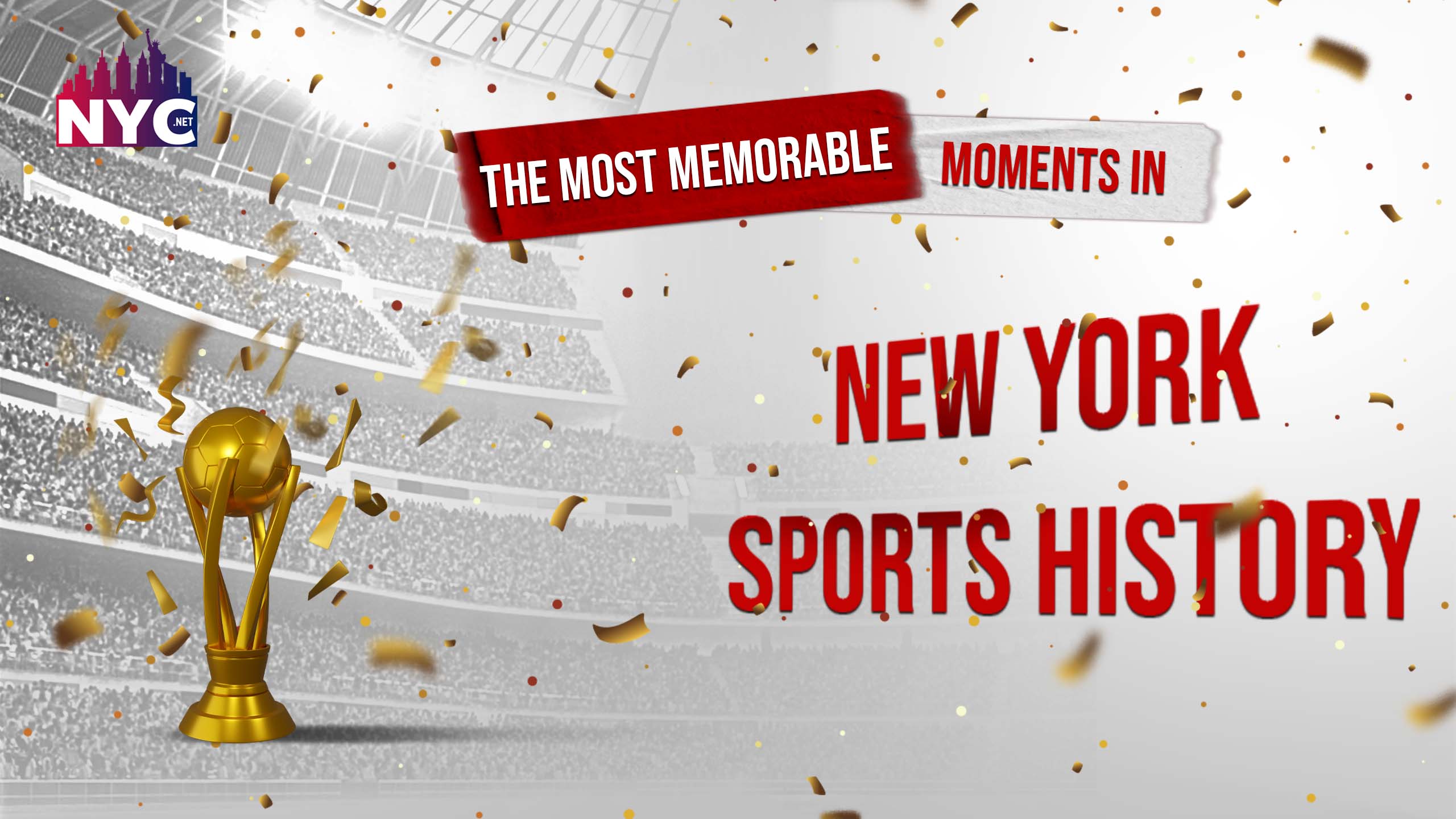 The New York Yankees win the World Series:
In baseball, the New York Yankees are an iconic team. Their storied history can be traced back to 1901 when they were known as the Baltimore Orioles. The franchise moved to New York in 1903 and has been a staple in the city ever since.
The Yankees have won more World Series championships than any other team, with 27 titles. However, one year stands out among all others, and that's 2009.
After missing out on postseason play for two consecutive years, the Yankees came into the season determined to make up for a lost time. Led by superstars like Derek Jeter, Alex Rodriguez, and Mariano Rivera, they dominated their way through both regular-season and playoff games.
In Game Six of the World Series against the Philadelphia Phillies:

Hideki Matsui stepped up big-time with six RBIs earning him MVP honors.

He led his team to victory over Philly with a 7-3, clinching their championship title.

This win was much needed by Yankee fans worldwide after years of waiting patiently for another ring!
The New York Mets win the World Series:
In 1969, the New York Mets shocked baseball by winning their first World Series championship. The team had only existed for seven years and had never finished above ninth place in any season before.
Led by manager Gil Hodges:
The "Miracle Mets" rallied to win their division.
They defeated the heavily-favored Baltimore Orioles in five games in the World Series. It was a stunning upset that captured the hearts of fans across America.
The key players on that particular team included pitcher Tom Seaver, outfielder Cleon Jones, and third baseman Ed Charles. Seaver won two games in the series and was named MVP, while Jones hit .429 with two home runs.
The victory was lovely for long-suffering Mets fans who had endured years of losing seasons and ridicule from fans of other teams. On October 16th, 1969, the fans saw history being made at Shea Stadium. Their beloved Mets hosted their first-ever World Series trophy, which changed everything.
Today's generation may not have seen this historic moment live.  
However, it remains one of those moments indelibly in New York Sports History!
Joe Namath's Guarantee
In 1969, New York Jets quarterback Joe Namath made a bold prediction that his team would win Super Bowl III. This was considered an audacious move since the Baltimore Colts were heavily favored to win the game. However, Namath remained confident and assured reporters that he guaranteed victory.
Namath's guarantee caused quite a stir in the sports world, with many experts doubting his ability to back up such a claim. Nevertheless, on game day, Namath delivered an outstanding performance and led his team to victory with a score of 16-7.
This moment became one of the most iconic moments in New York sports history and solidified Namath's place as one of football's greatest players. His guarantee showed immense confidence in himself and his team and inspired countless athletes never to give up or doubt their abilities over the years.
Fans still recall Joe Namath's famous guarantee as one of the most significant moments in New York sports history. However, more than fifty years have passed since he made it. It proves that anything is possible if you believe in yourself and work hard towards your goals.
The New York Giants win the Super Bowl:
The New York Giants winning the Super Bowl is a moment that will forever be etched in New York sports history. It was their fourth Super Bowl win, but it was certainly not easy. The 2011 season saw the Giants finish with a 9-7, barely making it to the playoffs as a wildcard team.
Their journey to victory began by defeating:;
the Atlanta Falcons
Blowing out the Green Bay Packers in a game nobody expected them to win.
They faced off against Tom Brady and his formidable New England Patriots in what would be one of the greatest Super Bowls ever.
Late in the fourth quarter, Eli Manning made an incredible pass to Mario Manningham, setting up Ahmad Bradshaw's touchdown run that won. The game was neck-and-neck until then. It was a true underdog story that fans still talk about today.
This victory cemented Eli Manning's legacy as one of New York's greatest quarterbacks. The Giants' triumph over seemingly insurmountable odds will always be unforgettable in New York sports history.
Mike Tyson Bites Evander Holyfield's Ear
One of the most shocking moments in New York sports history was during a heavyweight championship boxing match between:
Mike Tyson and Evander Holyfield.
In 1997, Tyson had already lost to Holyfield once and was determined to redeem himself.
However, things turned unexpectedly when Tyson bit off a piece of Holyfield's ear during the fight. The referee stunned the crowd by stopping the fight and disqualifying Tyson.
This moment shocked fans worldwide and tarnished Mike Tyson's reputation as a professional athlete. It became one of those unforgettable moments people would never forget for years.
Even though it was an unfortunate incident, it highlighted how even the best athletes could let their emotions get better in high-stakes competitions.
The Wild Card Game in 2014
In 2014, the New York Yankees faced off against their bitter rivals:
The Boston Red Sox, in a one-game Wild Card playoff.
Both teams looked to advance to the ALDS, and the atmosphere at Yankee Stadium crackled with electricity.
The game started with a bang as Yankees' center fielder Brett Gardner led off with a home run. However, Boston quickly responded with two runs in the top of the second inning.
In the bottom of the third inning, Derek Jeter came up to bat and hit an RBI double that tied the game. It was his last home postseason game, and he delivered in classic Jeter fashion.
The score remained tied until the bottom of the seventh. It is when outfielder Carlos Beltran hit a three-run home run giving New York a commanding lead.
Dellin Betances shut down Boston's offense for two innings. David Robertson, the closer, finished the memorable moment in New York sports history.
It was an intense and exciting game that showcased some incredible performances from both teams.
Conclusion
New York sports history has countless memorable moments that left fans in awe and pride. New York teams have impacted the sports world, from the Miracle on Ice to Super Bowl XLVI.
These unforgettable events have showcased our beloved athletes' talent and united our community. They've given us something to celebrate and cherish for years to come.
As New Yorkers, we take great pride in our teams' successes and feel their losses just as profoundly. Despite what happens on the field or rink, we know tomorrow is another day and a chance for greatness.
So here's to all the incredible moments in New York sports history – past, present, and future. May they continue to inspire us and make us proud to call ourselves fans of this great city!