News
What is the cost of Cybercrime in New York City in 2023?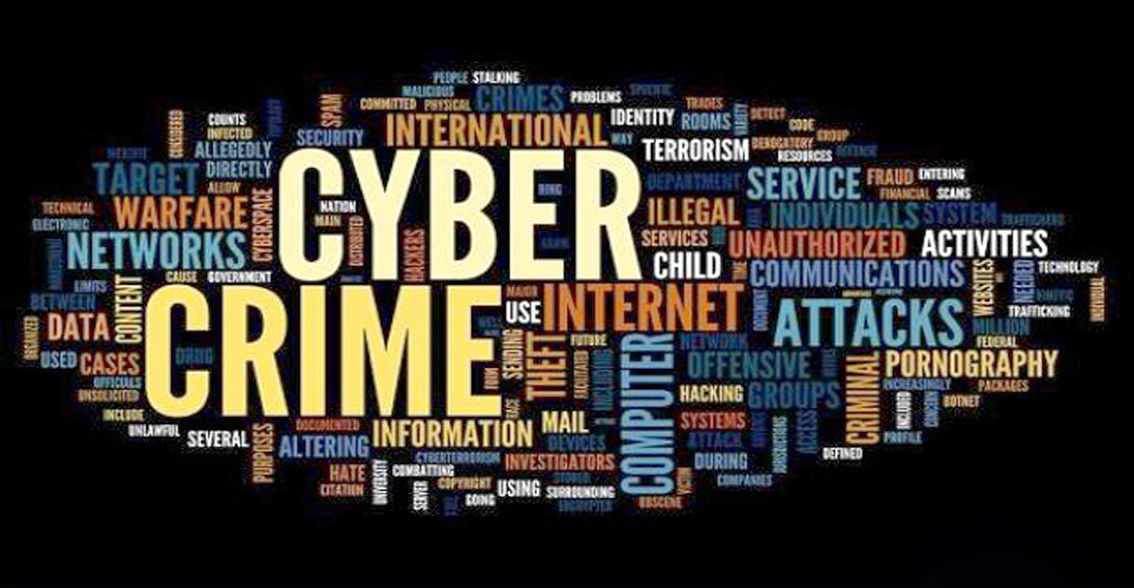 The "golden era" of hackers and Cybercrime is currently upon us. It is Unbelievable but true. The vast volumes of data produced by the world today. The exponentially increasing incidence of public IP addresses and access points, and the tremendous rise in Internet traffic all work together to make it extremely easy for hackers to exploit security flaws.
Cyberattacks could cost businesses worldwide US$5.2 trillion in additional expenses and lost revenue over the next five years as the ability to implement adequate safeguards to protect critical assets lags behind the dependence on complex internet-enabled business models.
Cost of Cybercrime in New York City
According to Cybersecurity Ventures, Cybercrime in New York city will cost the globe USD 8 trillion by 2023. Cybercrime, behind the United States and China, would have the third-largest economy in the world. Costs of Cybercrime include:
Data loss and damage 

Money Theft 

Lost productivity 

Intellectual property theft 

Theft of financial and personal data 

Fraud 

Disruption of business operations following an attack

Forensic investigation

Restoration and deletion of compromised data and systems

Reputational damage.
Cost of Cybercrime to raise $3 trillion annually
Cyber assaults like data breaches, phishing, ransomware, or cyber espionage continue to be one of the main hazards for the business sector, despite considerable increases in organizations' cybersecurity spending. Statistics from Statista demonstrate how serious the issue is. Costs of Cybercrime worldwide increased by 90% between 2016 and 2019, from $610 billion to $1.16 trillion.
Cost of security breaches estimates for the next five years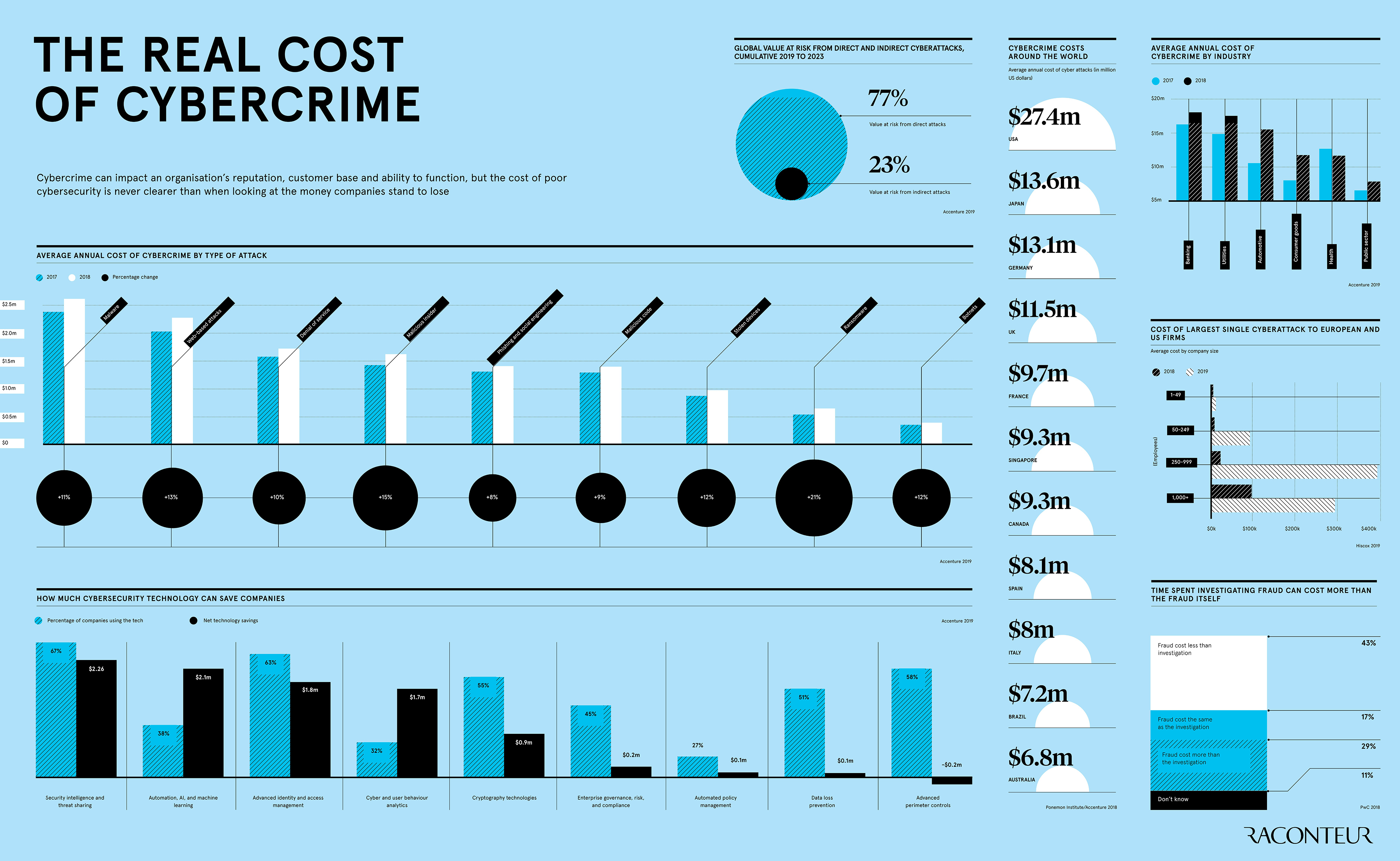 A recent study on the cost of security breaches estimates that over the next five years, cybercrime will threaten more than $5 trillion in global economic value. The report indicates three measures for businesses to take to reduce the costs of cybercrime by giving priority to cybersecurity-enhancing technologies:
Emphasize preventing attacks focused on people: 

With phishing and ransomware assaults on the rise and hostile insiders, combating internal threats remains one of the most significant problems.

Spending money to prevent data loss and business disruption:

 is already the most expensive outcome of cyberattacks. Concerns about it are being raised by new privacy legislation like the California Consumer Privacy Act and the General Data Protection Regulation.

Identifying technology that will lower escalating prices: 

Use automation, sophisticated analytics, and security intelligence to control the escalating cost of threat discovery, which accounts for the majority of investment.
In 2023, what cyber threats to businesses will be the most serious?
In addition to the legal threats to business, the current geopolitical maelstrom also introduces unanticipated hazards and "black swans"[1]. Cybersecurity and supply-chain stability will be the primary issues in 2023. While cybersecurity in the supply chain is already a severe concern to the company, it is more than just a problem. The supply chain will increasingly be a prime target for state-sponsored espionage and targeted ransomware attacks.
The worldwide scarcity of semiconductors is another major problem. It will undoubtedly have an impact on business cybersecurity. While many businesses require a rising amount of processing power, the equipment's cost keeps increasing.

Since many simple approaches have already been used this year and organizations have learned to thwart them, phishing attempts will become much more complex.

The ongoing use of remote and hybrid workplaces will increase the significance of zero trust. Since hybrid work is now the new standard, remote work will continue to fuel the demand for zero trust.

A modest decrease in the overall volume of ransomware assaults indicates the sluggish cryptocurrency markets. However, ransomware operators will continue to refine their techniques and target more valuable businesses.
What does Stats show regarding Cybersecurity Cost?
According to a Statista report, spending on cybersecurity will continue to increase due to the escalating costs of cyberattacks. The cybersecurity industry is anticipated to generate close to $160 billion in sales in 2022. 80% of the value will be produced by the top three markets: the United States, China, and Japan.
Cybersecurity services, such as data risk analysis, data masking, and vulnerability finding, are the market's most significant and fastest-growing area, with $86.2 billion in sales. According to the survey, next year, this amount will reach close to $94 billion. 
Cyber solutions will generate $87 billion in sales in 2023, up from $73.5 billion in 2022, a growth of 18% YoY. According to statistics, the global cybersecurity industry will be worth $181 billion in 2023 and will continue to expand to $298.7 billion by 2025.
Why were previous Years high in cybercrime?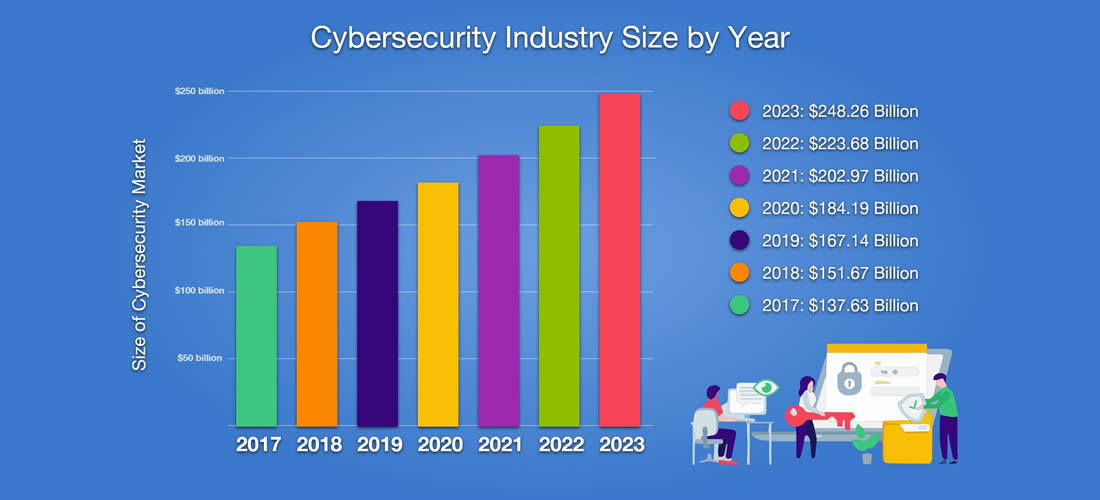 In 2020, there were unprecedented cybercrimes, including ransomware attacks, data breaches, and even sophisticated state-sponsored cyberattacks.
Marriott International, a large hotel chain, said that during the first half of the year, hackers gained access to 5.2 million records, including visitors' personal information via staff login information at one of its franchise sites.
A massive cryptocurrency fraud rocked the full spectrum of the global business scene in the middle of the year before the impact of this cyberattack subsided.
Due to businesses and organizations worldwide accelerating the digitalization of their operations, the annual cost of cybercrime increased by 155% YoY to $2.95 trillion. The yearly cost of cyberattacks doubled to almost $6 trillion last year and kept growing.
Upskilling is essential for evolving threat environments.
The coronavirus epidemic has ushered a significant shift to a digital world. More and more organizations from all industries are working to reform their work practices to enable the digital transformation of their critical business operations as businesses begin to reopen.
Companies are starting to adjust their business models in favor of digitalization. Still, it is becoming increasingly critical to upskill their personnel to prepare them for cybersecurity concerns.
Organizations need skilled cybersecurity specialists who can use cutting-edge cyber tools to battle and eradicate possible risks, data breaches, and cyber-attacks to keep up with the rapidly evolving business dynamics.
How can illegal activity be stopped when the benefits substantially exceed the risk of sanctions imposed by international institutions?
The fight against cybercrime is taking on Pyrrhic proportions since the returns are growing at a 15% annual pace, making it impossible to push this gang of thieves over the edge. They're even obligated to boost their bounty by around $10.5 trillion in 2025 at that rate.
Cybercriminals are becoming increasingly clever. It exploits COVID-19 and Medicare emails and phone calls to defraud victims, thanks to its enormous financial resources and top-notch trade expertise.
Although there are free IT security options you may explore, given the increase in cybercrime, investing in IT security can be so much more beneficial than it is cost-effective.
Will the cyber team need a Bigger Budget than ever?
More than ever, cyber teams will be in the limelight. Understanding your security posture and being aware of the holes in your infrastructure and the solutions that are currently available can help you safeguard your business.
Larger cyber budgets are required, and personnel must be in place. Consider collaborating with a third-party company to guarantee you have fail-proof procedures, documentation, and frequent third-party evaluations in light of the continuous skills scarcity.
According to the report, various malicious cyberattacks present serious problems that might endanger corporate operations, innovation, and growth, and the introduction of new goods and services, eventually costing businesses trillions of dollars. 
The most significant risk is in the high-tech sector, where more than US$753 billion is on the line. The highest chances are in the health sciences and automotive sectors, where US$642 billion and US$505 billion, respectively, are at stake.
Conclusion
The race to secure the internet has always been never-ending, but change is happening faster now. Businesses keep spending money on technology to run their businesses. To facilitate remote work, improve the customer experience, and produce revenue, they are currently adding additional technologies to their IT networks, which might lead to new vulnerabilities.
Smaller and less developed firms will be targeted even more as cybercrime concentrates on maximizing returns on investment. These might be SMEs or companies operating in industries that don't rely much on IT, like the health services industry. The issue with this target group is that they either need to gain knowledge or have different objectives and need more means to defend themselves.
FAQs
Q.1: What is the impact of cybercrime on the economy?
Businesses that experience cyberattacks also pay more due to operational interruption and modified business procedures. Companies that lost control of their consumers' data have settled lawsuits for millions of dollars.
Q.2: What do cyberattacks cost companies?
The expenses associated with a cyberattack might be quite diverse but are unquestionably high. According to recent research, the estimated cost of a data breach to a small organization may be between $120,000 and $1.24 million, which is only applicable to that market.
Q.3: Which nation spends the most money on cyber security?
The country that pays cybersecurity specialists the most in Luxembourg. A rapidly expanding subject, cybersecurity has a lot of potentials. You must also consider living costs to get the most money in this market.
References
(Cybersecurity threats: what awaits us in 2023?) From SecureList Link:

https://securelist.com/cybersecurity-threats-2023/107888/